Help when and where you need it
Running any business can be tough and whether you are established or just starting out, you need support and someone to turn to at times.
The Domestic Cleaning Business Network (DCBN) is here to support you in your business. Whether you are a solo cleaner or you have a team, we can help! 
From providing all the business templates you may need, to regular live online training events, our comprehensive online training library, supplier discounts, members only facebook group, discounted regional networking events and more, we are here to support you, guide you and make running your business easier and hopefully more fun!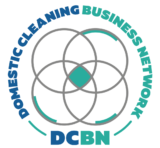 Supplier discounts – 20% off at Sebo. 10% off at Paragon Microfibre, 15% off at Workwear Express, 10% off at Peninsula, 75% off at Zenmaid and many many more! Most members effectively get their membership for FREE just by using the savings they make with the great deals we have negotiated for them with the best suppliers in the industry
Online Training – included in membership are regular live online workshops and masterclasses on topics such as selling on the telephone, raising prices without losing customers, using instagram and tiktok, VAT, managing staff and more!
Online Training Library – a huge library of previous recorded training events for our members to access at any time to grow their knowledge

Industry Specific Health and Safety Training – online training course accessible in our members area with Certificate on Completion
Members Only Facebook Group – join fellow DCBN members in our members only group. Share ideas, support and knowledge in a safe and exclusive environment with like minded cleaning business owners
Business Templates – client contracts, employment contracts, keyholder agreements, holiday calculators and many more editable documents for members to download and in their business
Approved Supplier Logo – Prove to potential clients and potential staff members that your business is Trained, Insured and Safe with the DCBN Approved Supplier Logo
Find a Cleaner Page – Listing on our find a cleaner page so you can be sure that when potential clients are searching for the best in the industry, they can find you
Diagnostic Call with a Director – All members have a call with one of the DCBN Directors to help them get the most out of their membership. As experienced cleaning business owners and business coaches, we always aim to help with at least one pressing business problem during the call as well as answering any questions about membership
Discounted Regional Networking Events – join fellow cleaning business owners in your local area. DCBN members come along for half price
Membership starts at just £300 per annum.
We also have a pay monthly option at £30 per month, with a £60 registration fee.
Membership includes:
Free 30 Minute Diagnostic Business Call
Large suite of fully editable business templates including client contracts, employment contracts, letters and more
Regular FREE online member only training events
Huge discounts on industry specific software, services and products
Health and Safety Training & COSHH Guidance
Approved Supplier Listing on our Find a Cleaner Page
Use of DCBN Logo for use on websites and marketing materials

Access to our huge online training library 24/7

Discounted access to all networking, training and support meetings across the UK
50% discount in our online shop
Discounted monthly mentoring with trained business coaches
Online support network from peers that are in the same situation, but also support from owners of some of the largest domestic cleaning companies in the UK

Updates on legislation changes that may affect you and major changes within the industry

Discounted tickets to industry showsi